Falcon stainless steel flat top worktables with under shelf are constructed of 304 grade stainless steel tops, under shelf, legs and crossrails.
Available in 16 Gauge or 14 Gauge
Standard Height 36″ with 1 ½" Adjustable Bullet Feet
Tables Longer Than 72″ Will Have 6 Legs
Swivel Casters Available On All Work Tables
Can't Find The Size Your Looking For?  We Will Custom Make Any Size Within Your Specs.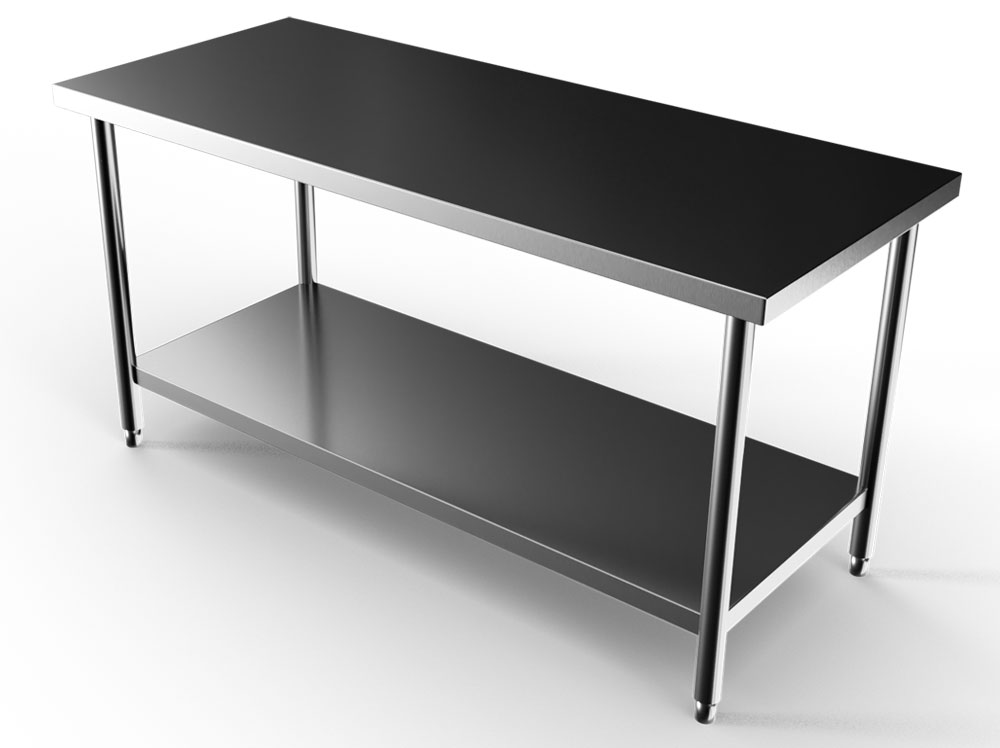 16 GAUGE
FLAT TOP WORKTABLE w/ UNDER SHELF
| Dimension | Model # |
| --- | --- |
| 24 x 24 | WT162424-U |
| 24 x 30 | WT162430-U |
| 24 x 36 | WT162436-U |
| 24 x 48 | WT162448-U |
| 24 x 60 | WT162460-U |
| 24 x 72 | WT162472-U |
| 24 x 84 | WT162484-U |
| 24 x 96 | WT162496-U |
| 24 x 108 | WT1624108-U |
| 24 x 120 | WT1624120-U |
| | |
| 30 x 24 | WT163024-U |
| 30 x 30 | WT163030-U |
| 30 x 36 | WT163036-U |
| 30 x 48 | WT163048-U |
| 30 x 60 | WT163060-U |
| 30 x 72 | WT163072-U |
| 30 x 84 | WT163084-U |
| 30 x 96 | WT163096-U |
| 30 x 108 | WT1630108-U |
| 30 x 120 | WT1630120-U |
| | |
| 36 x 24 | WT163624-U |
| 36 x 30 | WT163630-U |
| 36 x 36 | WT163636-U |
| 36 x 48 | WT163648-U |
| 36 x 60 | WT163660-U |
| 36 x 72 | WT163672-U |
| 36 x 84 | WT163684-U |
| 36 x 96 | WT163696-U |
| 36 x 108 | WT1636108-U |
| 36 x 120 | WT1636120-U |
14 GAUGE
FLAT TOP WORKTABLE w/ UNDER SHELF
| Dimension | Model # |
| --- | --- |
| 24 x 24 | WT142424-U |
| 24 x 30 | WT142430-U |
| 24 x 36 | WT142436-U |
| 24 x 48 | WT142448-U |
| 24 x 60 | WT142460-U |
| 24 x 72 | WT142472-U |
| 24 x 84 | WT142484-U |
| 24 x 96 | WT142496-U |
| 24 x 108 | WT1424108-U |
| 24 x 120 | WT1424120-U |
| | |
| 30 x 24 | WT143024-U |
| 30 x 30 | WT143030-U |
| 30 x 36 | WT143036-U |
| 30 x 48 | WT143048-U |
| 30 x 60 | WT143060-U |
| 30 x 72 | WT143072-U |
| 30 x 84 | WT143084-U |
| 30 x 96 | WT143096-U |
| 30 x 108 | WT1430108-U |
| 30 x 120 | WT1430120-U |
| | |
| 36 x 24 | WT143624-U |
| 36 x 30 | WT143630-U |
| 36 x 36 | WT143636-U |
| 36 x 48 | WT143648-U |
| 36 x 60 | WT143660-U |
| 36 x 72 | WT143672-U |
| 36 x 84 | WT143684-U |
| 36 x 96 | WT143696-U |
| 36 x 108 | WT1436108-U |
| 36 x 120 | WT1436120-U |